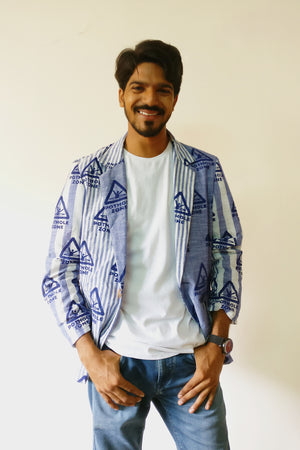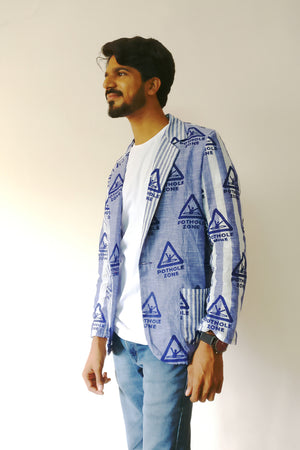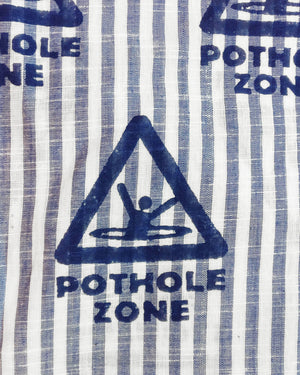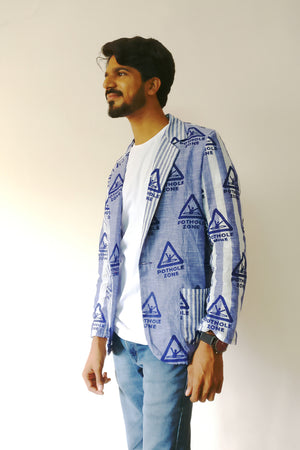 Blazer Jacket - Pothole Zone On Blue Stripe (Boxy)
Wear your love (or love and hate relationship) for Bombay Meri Jaan. 
Blazer jacket for men with our original block print Pothole Zone.
Stay cool, stay safe, Bombay!
Fun styling ideas: Check out our blog post here!

No lining, thin
Handloom Cotton 
MIRCHI KOMACHI original print

* There are three patterns on this fabric (thin stripe, bold stripe, no stripe) and they appear in different parts of each jacket.
  Therefore all the jackets look slightly different from each other.

Made from the "male-body" basic pattern.
I.E. No bust darts. Broader-shouldered. Supports the muscles of the back and arms. Non-curvy silhouette.


[SIZE CHART] (for your nude size, inches)
S:
Chest/Bust 34, Waist 29
M:
Chest/Bust 37, Waist 32
L:
Chest/Bust 40.5, Waist 35.5
*The model: Height 5.9 ft, Chest 35.5 inches, wearing Size M


[CARE]
Please gently hand-wash, or use a laundry net when machine wash.
Please also go through CARE page.


Any questions? Please check out our FAQ, or simply chat with us in the bottom right corner of the screen.