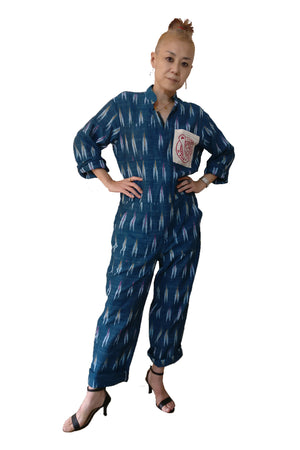 Boiler Suit - Ikat Blue feat. Democracy Cat
When MIRCHI KOMACHI makes a classic boiler suit for daily life, of course it's with Indian traditional fabrics, way thinner and lighter than your normal boiler suits.
And with a voice - our original block print Democracy Cat is on the chest!
We chose an "oversized" silhouette (unlike those in Money Heist or Squid Game!).

If you want to mark your waist, wear it with a belt.
You can roll up the sleeves and hems, layer something inside and keep the zipper half-open (remember Nairobi from Money Heist?), or wrap the top part around your waist...
There are multiple ways to style it.

Where to go in this boiler suit?
Gourmet tour (big bellies? No worries!), gig of your favourite musician/DJ, protest meetings, painting murals...
Oh, you don't need to even go out - it's a perfect WFH wear, too!

No lining
Pockets: 4 in the front, 2 in the back
Opening: Zip-front
Belt loops: 2 in the sides, 1 in the back
Cotton Handloom Ikat
With MIRCHI KOMACHI original print Democracy Cat on a front pocket
* Just like for our other items, if the fit is not right for you, you can return to us with no cost. Please refer to our return policy.
[UNISEX SIZE CHART] (for your nude size, inches)
This item is made to be "oversized" or very loose-fit.
S:
Bust/Chest 29-33
Hip 31-36
M:
Bust/Chest 33-38
Hip 36-41
L:
Bust/Chest 38-42
Hip 41-45
Intended height of this product:
Between 5.09ft (5ft + 1.02in) and 5.74ft (5ft + 8.90in)

Woman model: Height 5.35ft (5ft + 4.17in), Bust 33 inches, Hip 35 inches, wearing Size S
Man model: Height 5.64ft (5ft + 7.72in), Chest 34 inches, Hip 35 inches, wearing Size S
[CARE]
Please gently hand-wash, or use a laundry net when machine wash.
Please also go through CARE page.

Any questions? Please check out our FAQ, or simply chat with us in the bottom right corner of the screen.