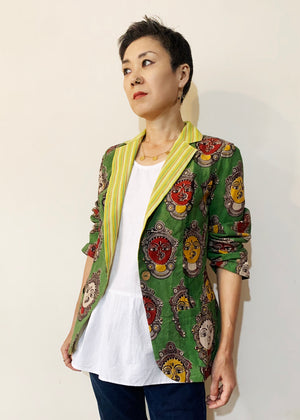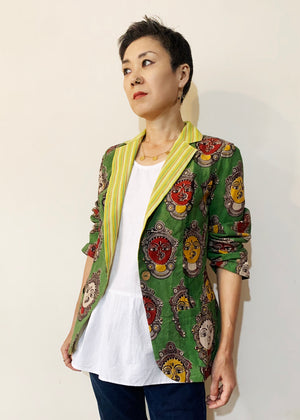 Blazer Jacket - Green God Print & Yellow Stripe Collar
What are the fun occasions that you really enjoy in daily life?
Travels? Music fests? Girls' night-out? Drive date? Family outing to a amusement park? 
You can add even more fun by throwing on this jacket.
Also check out our Styling Idea Blogs using blazer jackets.
No lining
Cotton

Made from the "female-body" basic pattern.
I.E. Has bust darts/space. Narrower-shouldered. Curvier silhouette with wider gap between bust/chest - waist - hip.



[SIZE CHART] (for your nude size, inches)
XS:
Bust/Chest 31.5, Waist 25.5, Hip 34.5

S:
Bust/Chest 34, Waist 28, Hip 37
M:
Bust/Chest 36.5, Waist 30.5, Hip 39.5
L:
Bust/Chest 39, Waist 33, Hip 42

XL:
Bust/Chest 41, Waist 35, Hip 44

XXL:
Bust/Chest 43.5, Waist 37.5, Hip 46.5
*The model: 5.36 ft, B33 W26.5 H35 in, wearing Size XS.

[CARE]
Please gently hand-wash, or use a laundry net when machine wash.
Wash separately in the first several times.
Please also go through CARE page.


Any questions? Please check out our FAQ, or simply chat with us in the bottom right corner of the screen.