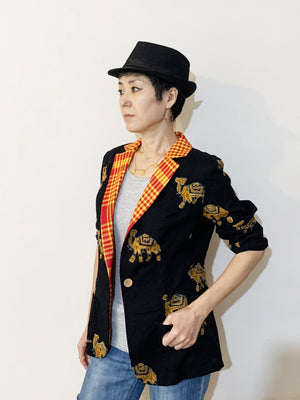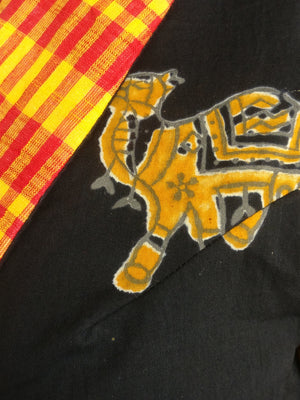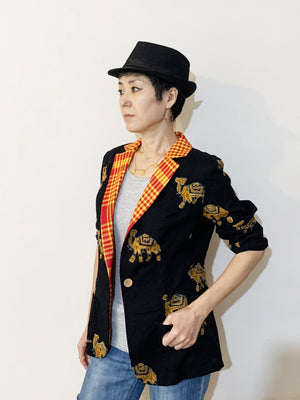 Blazer Jacket - Black (Yellow) Camel Print & Yellow Plaid Collar
We MIRCHI KOMACHI don't often make black items, but when we do, we aim for "fun and exciting" rather than "stylish and chic".
We have some styling suggestions using blazer jackets in our Styling Idea Blogs . Do check out!


No lining
Bodice: Cotton, thin
Collar & Lapel: Handloom cotton

Made from the "female-body" basic pattern.
I.E. Has bust darts/space. Narrower-shouldered. Curvier silhouette with wider gap between bust/chest - waist - hip.


This product is partially made-to-order.
Some sizes are not in stock as finished products but as fabrics. We'd stitch them after receiving your order. 
Shipping will start 1-2 weeks after the order is received.
Good news is that it allows for sizes not listed on the website (e.g. XXXL) or for a different type of jacket in the same fabric (e.g. ordering a boxy blazer instead of a curvy blazer).
Contact us via chat window or email for inquiries.


[SIZE CHART] (for your nude size, inches)
XS:
Bust/Chest 31.5, Waist 25.5, Hip 34.5

S:
Bust/Chest 34, Waist 28, Hip 37
M:
Bust/Chest 36.5, Waist 30.5, Hip 39.5
L:
Bust/Chest 39, Waist 33, Hip 42

XL:
Bust/Chest 41, Waist 35, Hip 44
*The model: 5.36 ft, B33 W26.5 H35 in, wearing Size S.

[CARE]
Please gently hand-wash, or use a laundry net when machine wash.
Wash separately in the first several times.
Please also go through CARE page.


Any questions? Please check out our FAQ, or simply chat with us in the bottom right corner of the screen.