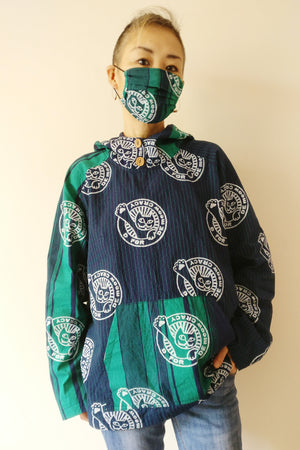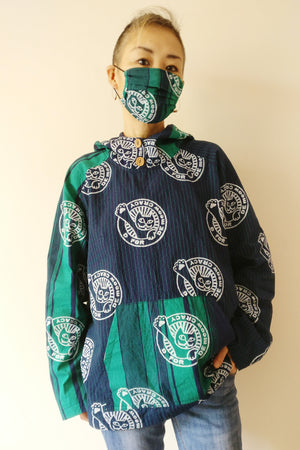 Pull-over Hoodie - Democracy Cat Print (Navy)
We created this print when the huge protest and violence were going on before India's lockdown.
This is a statement to protect our base, what we stand for.
We made this pullover for you who fight for an equal and diverse society.
A mask is attached.
This mask is one-layered and not protective enough against COVID-19.
It's for concealing your identity at protest rallies, but we made it before the pandemic, you see...
We anyway attach it. Please use it only after "Corona Go".

No lining, thin
No opening (buttons are decoration)
Handloom Cotton 

MIRCHI KOMACHI original block print
* There are two patterns on this fabric (pinstripe, green stripe) and they appear in different parts of each pullover.
Therefore each pullover looks slightly different from others.


[UNISEX SIZE CHART] (for your nude size, inches)
This item is meant to be loose-fit, but please choose the size according to your preferred fit.

S:
Bust/Chest 29-33
M:
Bust/Chest 33-38
L:
Bust/Chest 38-42
Woman model: Height 5.36 ft, Bust 33 inches, wearing Size S
Man model: Height 5.63 ft, Chest 34 inches, wearing Size S


[CARE]
Please gently hand-wash, or use a laundry net when machine wash.
Please also go through CARE page.

Any questions? Please check out our FAQ, or simply chat with us in the bottom right corner of the screen.